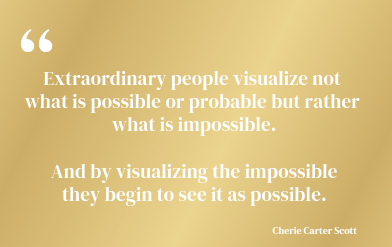 Master Constant Change to Win in the Post-Pandemic Future With High-Potential Employees
Today more than ever, companies are grappling with increasingly complex challenges that require bringing the best employees to work every day. 
Indeed, facing the pandemic means reinventing businesses in volatile conditions. At a time when adapt or die has never been so true, organizations must be able to switch gears quickly to thrive in ever-changing conditions.
Reinvention is necessary to keep businesses relevant and alive. To do so, they need to tap into the diversity of passions and perspectives around them. Fresh, innovative thinking is essential for business survival and growth. 
Creating a culture of originality sets the table to allow for great ideas. This begins with recognizing and leading creative, gifted employees and partners — and building the conditions that allow them to thrive. 
How to Recognize the High-Potential People Among You
High potentials always deliver strong results, master new types of expertise and recognize that behavior counts. But before you can engage, encourage and develop your high-potential employees, you have to know who they are.
Here are a half-dozen traits to look for to help you find your high-potential employees:
Enterprising spirit. High potentials are always searching for productive ways to blaze new paths. They are explorers and, as such, take on the challenges of leaving their career comfort zones periodically in order to advance. Demonstrating initiative, they don't need to be told what to do. Rather, they are among the first to take action if they recognize a problem. Whether it's a tricky international assignment or a cross-unit shift that demands an entirely new set of skills, they find excitement and opportunity to learn and solve problems.
Calm, cool and collected. People who keep their heads in a crisis are usually high potentials. You may even find that they thrive in these high-pressure situations. 
Curiosity. Employees who are interested in the future of your company will ask a lot of thoughtful questions. High-potential employees like to understand the effort that goes into decision-making. They usually have their sights set on leadership positions within your organization, which means they want to understand what goes on behind the scenes. 
Catalytic learning capability. Because they are so driven, high-potential employees have the capacity to scan for new ideas, the cognitive capability to absorb them and the common sense to translate that new learning into productive action for their customers and their organizations. 
Helpful. When they see co-workers overwhelmed, high-potential people will be the first to step up to help out. They enjoy taking on more responsibilities and new tasks, so offering to help is second nature to them. 
Dynamic sensors. Successful high potentials have a well-tuned radar that puts a higher premium on quality results. Most of them, especially the most experienced, possess what we call "dynamic sensors," which enable them to skirt risks and navigate through ambiguity. They have a feel for timing, an ability to quickly read situations and a nose for opportunity. 
While there are some common traits that high-potential people have in common, each organization will have different criteria to help identify their high-potential employees. A large part of the identification process involves knowing what your organization wants and needs in future leaders. Once you have a clear idea of the skills and talents you value, it will become easier to recognize your high-potential people. You'll also be in a better position to develop their full potential. 
Want to chat about how to engage your high potentials? Let's talk.