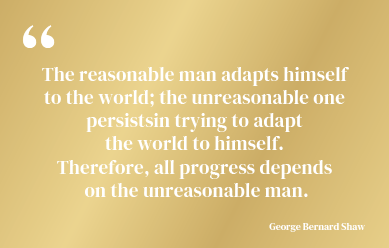 The Path to True Transformation
Transformation, noun. Such as "a marked change in form, nature, or appearance" or "to change (something) completely and usually in a good way."
The Three Types of Business Transformation
Operational: Making changes to the way you do things to make operations better, faster or cheaper, for example, digital transformation.
Core transformation: Moving to a fundamentally different way of operating.
Strategic: Changing the very essence of the company to a new focus.
The word "transformation" gets thrown around a lot these days, but it can have different meanings for different individuals and companies. In a world of unprecedented disruption and market turbulence, transformation today revolves around the need to generate new value — to unlock new opportunities, stimulate new growth and deliver new efficiencies.
Unfortunately, it's estimated that as many as 70 percent of projects designed to spark change fail due to a lack of proper support and guidance. That's why transformation management companies have become a necessity for organizations of all sizes.
Transformation is the opportunity to define a bold ambition that goes beyond incremental change. Indeed, it's the opportunity to rethink business and operating models to deliver breakthrough value.
It involves strategic decisions that influence where companies grow, how they operate and the kinds of improvements in performance they can expect.
For a transformation to take place, it is important to reconsider how an enterprise offers value today and in the future. In other words, all transformations require organizations to think big. 
Why? Because incremental improvement is not enough to win in today's exponentially disrupted business environment. Every organization requires sustainable growth in the face of near-constant disruption — and sustained growth requires agile reinvention.
It's not enough to win today. You have to be able to continue to evolve in the future.
To Achieve Breakthrough Value, Invest in Great Talent
In light of the potential risks, aligning all of the elements to get business transformation "right" requires more than an A-to-B roadmap. It requires an integrated approach linking business strategy to the desired transformation to executional discipline. The end result? Breakthrough value. 
Leaders who have experienced a successful transformation, recognize that the right leader and the right talent will make or break the success of a transformation. 
A strong leader should have the influence and credibility within the organization to make major shifts and shape how work gets done. Assigning a dedicated, respected and capable business leader is critical to establishing the importance of the transformation to the organization's strategic goals. 
Many organizations make the mistake of not freeing up top talent to support a transformation. But business transformation programs typically require a significant investment in resources to achieve the desired change, and the return on this investment is often directly proportional to the caliber and dedication of the talent assigned to the transformation.
Finding Transformation Champions 
The key to exceling in transformation management is collaborating with unusually gifted talent. They don't just build and develop programs, they approach problems from new angles, handle surprises, learn quickly, excel in problem-solving and help sustain the value of the transformation over time.